Beechworth Public Cemetery
The Beechworth Public Cemetery is managed by a Trust consisting of eight members of the local community who are committed to the ongoing viability and sustainability of the Cemetery as a place of peace and interment. The office bearers and Trust members names and contact details are available on the contact page.
Beechworth Public Cemetery is located on Balaclava Road, Beechworth. The entrance to the Main and Lawn Cemeteries are on opposite sides of this road.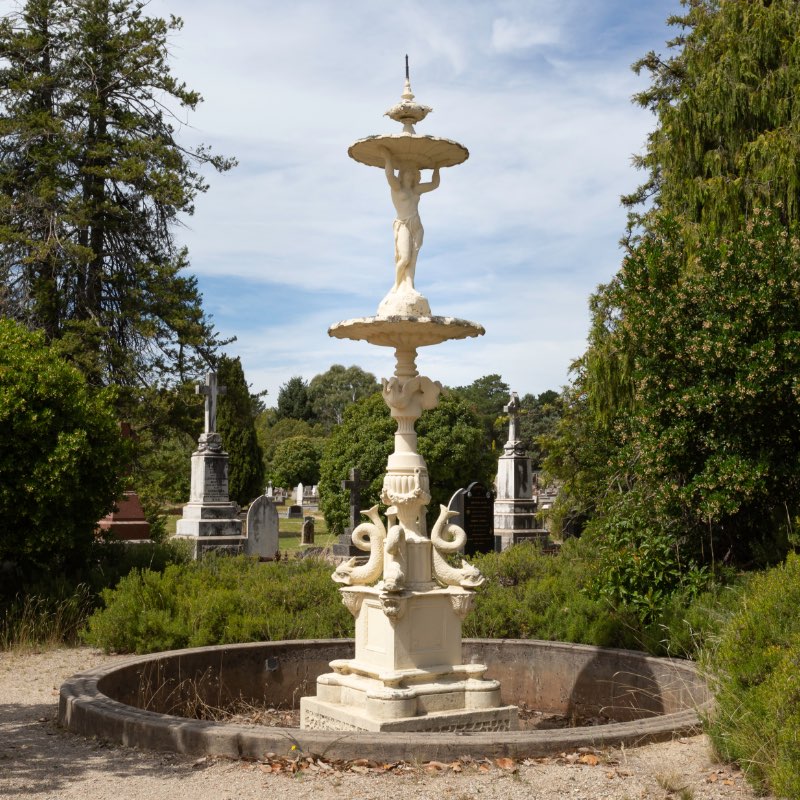 What it means to be buried at the Beechworth Public Cemetery
This is our community cemetery. Lives are commemorated – deaths are recorded – families are reunited – memories are made tangible – and love is undisguised – This is our Cemetery. Communities accord respect – families bestow reverence, historians seek information, and our heritage is thereby enriched.
Testimonies of devotion, pride and remembrance are recorded and preserved to pay warm tribute of accomplishment and to the life – not the death – of a loved one. Our Cemetery is homeland for memories that are a sustained source of comfort to the living.
The Cemetery is a history of people – a perpetual record of yesterday and a sanctuary of peace and quiet today.
Our Cemetery exists because every life is worth living and remembering – always.
Create, manage & share your loved one's story
It's never easy saying goodbye to the people we cherish. A physical resting place like the Beechworth Public Cemetery can hold many memories. But when one of these beloved family members or friends pass, it would be nice to leave an everlasting memory. An eternal connection to their lives and legacies.
You are now able to share that experience through Life Chronicle by creating an online memorial.
Create a Memorial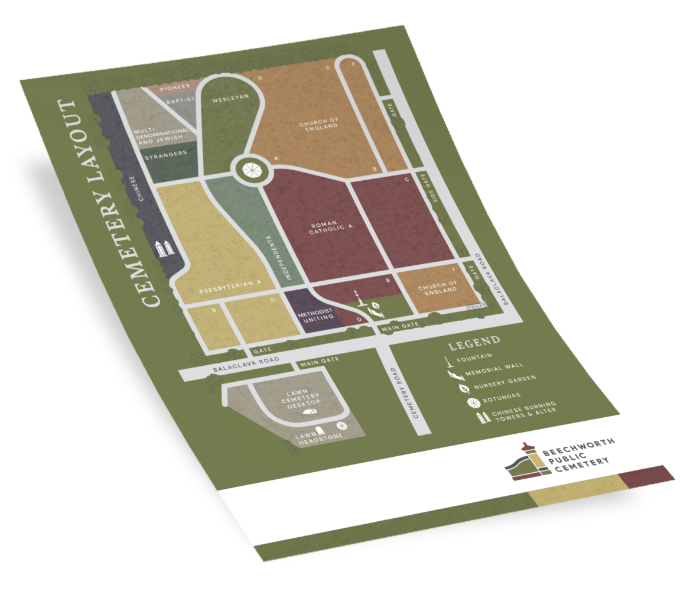 Beechworth Public Cemetery Map
Frequently Asked Questions
How do I prepurchase a plot at the Beechworth Public Cemetery?

There are plots available in the Lawn Cemetery both Desktop and Headstone sections, General Cemetery, Memorial Wall, and Memorial Garden. Contact the cemetery for availability and costs. A site visit will be arranged.

Can I place cremated remains in a gravesite plot?

Yes. Cremated remains may be placed in any of the available gravesite options, not just being limited to the Memorial Wall or Garden. Contact the cemetery for availability and costs.

Can cremated remains or burials be interred in existing relatives' gravesites?

Yes. This is a possibility if there is room in the existing gravesite. The Holder of The Right of Interment to the burial site (or if that person is the deceased, their executor, administrator, or authorised person) is the only person who has the authority to inter ashes or a deceased person in the gravesite.

Where a person who is not the Holder of the Right and has no proof that they are acting on behalf of the Holder of the Right or the original Holder cannot be contacted (i.e. they are overseas or they are deceased), the Trust may be willing to accept a Statutory Declaration from the applicant, in addition to the completed application form.

Contact the cemetery for details, forms, and costs.
See all FAQs